Do's and Don'ts - Be Prepared For The Unexpected!
The trick to deal with data loss is to be prepared and know what to do next when something similar occurs. In majority of the cases, your data is recoverable. But in a situation of panic, several of us take certain wrong steps which further lead to more damage and even permanent data loss.
Go through this Do's and Don'ts checklist and learn what you should do and avoid while dealing with data recovery.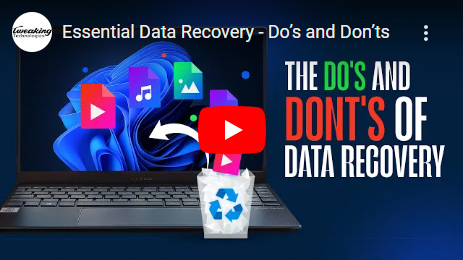 ---
Do's:
Keep calm and take a deep breath before you take any further steps.

Stop using your device to prevent overwriting of files & folders you're trying to restore.

Carefully remove your storage device (if its an external device) and keep it in a safe place.

If the hard disk is not getting detected; try reconnecting it with a different cable.

If the external drive is inaccessible, check the power outlet and data connection. Alternatively, try reconnecting the drive to another working PC.

Shut down your PC immediately if you hear any hard disk grinding/clicking noise.

If the storage device is inaccessible and data is lost, stop using your drive immediately and install data recovery software to get back your lost files.

Get in touch with a professional, if you are not sure of what you are doing. Don't take the risk!
---
Don'ts:
Don't panic! Losing precious files can be stressful, but take a moment to understand the situation before you take any further action.

Never restore data on the original disk, as this can overwrite the files you are trying to recover, thus decreasing the chances of successful data recovery.

Don't attempt to restore lost data yourself, if you are not sure what to do next!

Don't format the disk. Consider using reliable data recovery software that can assist you in the journey of getting back your lost/missing/deleted files.

Avoid saving your precious data on the hard disk with bad sectors.

Avoid downloading third-party applications from unknown/untrustworthy sites.

Don't browse the web on the device from where your data is lost or deleted.

Do not try to open your physically damaged or non-responsive hard disk.

After data loss, avoid using third-party software to create, delete or repartition your hard disk.

Do not run the CHKDSK command, as it might write the hard drive from where you're trying to recover your precious files.
---
General Tips:
Make a habit to backup your valuable files and folders regularly. If you encounter any unusual activity or behavior in your PC performance, immediately backup your important data.

Keep multiple data backup copies.

Use reliable cloud backup solutions.

Install and update an antivirus program on your PC to ensure no virus or other vulnerability causes data loss on your PC.

Don't forget to back up your important data, if you are considering reinstalling, upgrading, or formatting OS.
Advanced File Recovery is a trusted and reliable file recovery application that most users choose to retrieve their valuable data lost due to formatting, reinstalling OS, hard disk corruption, human error, and so on.